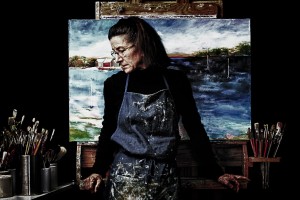 The landscape as always been a great source of inspiration in my work. Over the years I have strived to find a continuum between the notion of representation and abstraction, switching from one to the other depending on the need to further explore the issues of painting.
The horizon line is a consistent theme in my work. It represents a place of rest and the notion of infinite beginning. It is a foundation to capture the space and distance created by our perpendicular presence on the land and a search for a distant calm.
As with most artists, working out the structure given by the horizon and it's relationship to the proportions in a painting, it is a always a struggle to get it right. The mystery of painting is how can an appearance of a subject be made. It can be illustrated, it can be photographed, but how do you catch the illusive notion of appearance? With brush strokes and marks, pushing the paint to it's edge, suddenly appearance comes in with a clarity that eludes the notion of the accepted way. It can begin as a familiar feeling but end up as something quite difference, and that is what is exciting.
Nantucket's sublime and natural beauty has been etched in my mind and heart since I was a small child as my formative years were spent there. To this day, it continues to provide an infinite source of inspiration for the years ahead.
Gay Fraker Held (2017)